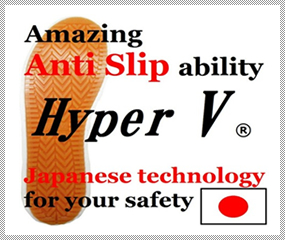 Our Technology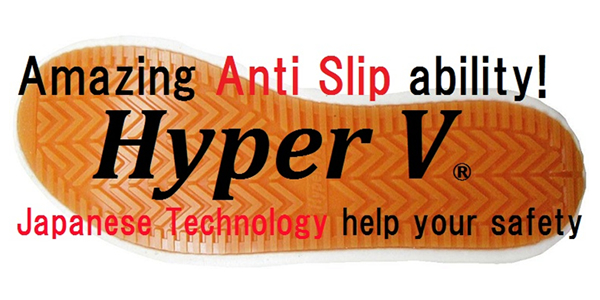 Introduction Movie
In Japan the number of people died of slipping accident continues to increase, let alone the number of the accidents.
15 years ago, we started development of anti slip sole.
Our patented Hyper V® made of special rubber compound and characteristic V shape was developed from demand for safety.
Many industries are estimating this ability as their necessities for safety work.
The ability still continues evolving.





Drastic improvement of Anti-slip performance
- 2.5 times higher than before
Hyper V® has an excellent anti-slip performance especially on the floors covered
with water, oil, and soap. The performance was admitted at the highest level, that is level 5
by "Japanese Ministry of Health, Labor and Welfare"
Long lasting shoe sole
With special materials, the shoe sole lasts longer than a conventional model.
Decrease risk of slipping down
Change over from static friction to kinetic friction very smoothly.
Decrease risks of slipping down accident.

Caution: Anti-slip performance of Hyper V® can be lowered by icy road, surface of ice, etc.,
      and heavy dirtiness of the shoe sole.